Account Deletion
Please Note: Deleting your account is permanent and deleted accounts cannot be reinstated. The following instructions apply to Lite and Trial accounts only.  If you are on a paid plan please contact your account representative in order to delete your account.
In order to delete your account, you will have stop sending logs to Loggly. Follow the steps in the document below to stop sending data to Loggly:
The steps below will check whether we have received logs from your account in the last 24 hours and let you know if we have received logs. If we have received logs, you will have to stop sending logs and return to the account deletion step after 24 hours to complete the account deletion.
To delete your Loggly account, log in to you account, click on the drop down under the username on the right-hand corner as shown below. Then  then click on Account followed by the Subscription tab and locate the Delete Account section at the bottom of the page.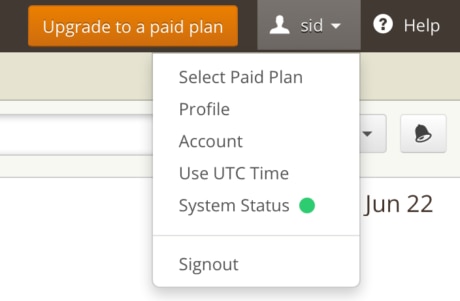 Step 1. Select the reason for deleting the account and click submit. The selection will take you to the appropriate page/step.

Step 2. If you have selected "Nothing I've made up my mind please delete" in the previous step, please take a moment to tell us why you're leaving. Then click the submit button: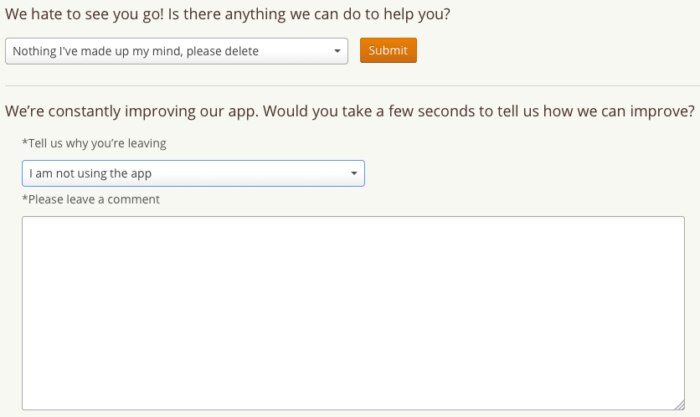 Step 3: In this popup window, click the three checkboxes to confirm that you understand the impact of deleting an account and click the Delete button: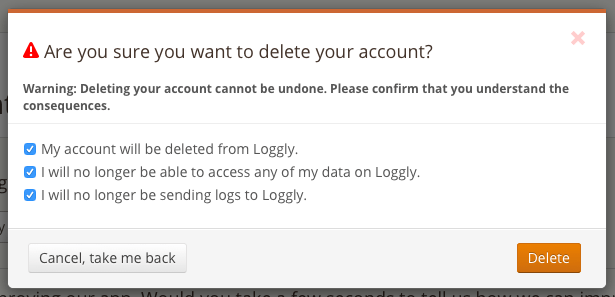 You are all done, any subscription related to the subdomain in question will be cancelled immediately. To confirm the account deletion, you may try bringing up the Loggly login page and you should see an invalid account message as shown below:

Thanks for the feedback! We'll use it to improve our support documentation.