New Survey Data: Where DevOps Spends Its Time

DevOps is a relatively new discipline, process, and way of thinking. On Wikipedia, the definition of DevOps (a portmanteau of "development" and "operations") is: a concept dealing with, among other things: software development, operations, and services. It emphasizes communication, collaboration, and integration between software developers and information technology (IT) operations personnel.
Job responsibilities and titles vary, and there's not a lot of data out there about how DevOps professionals spend their time on a day-to-day basis. What we do know from listening to our 5,000+ customers:
DevOps is critically important to the success of cloud-based businesses and customer experience
Without automation and data, time is disproportionally spent on painful, tedious activities
Time is universally the most critical (and valuable) DevOps resource and there are never enough DevOps cycles to go around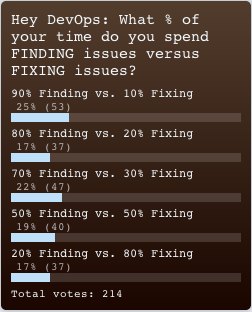 Since the mission of Loggly is to help cloud-centric companies solve operational problems faster, we conducted a survey of 200+ DevOps professionals to see how much time they spend finding issues compared to fixing issues.
The results were interesting: 64% of respondents spend at least 70% of their time finding issues.
Really?
It seems like fixing should be the hard part; but finding can be a real time sink, especially if you don't know where to look. Think about what happens when your application slows down. Which components are running slow? Are there issues with third-party services? Are there exceptions being logged? All of this information can take a while to track down.
At the same time, these numbers reveal a tremendous opportunity. Solutions that cut time out of the process of finding issues can generate some big returns for companies and much higher levels of sanity for the DevOps people supporting them. Think about it: for the typical DevOps professional, 50% less time spent finding issues means 116% more time for the real work. Furthermore, engineering talent is the scarcest resource in most net-centric companies. Shouldn't you (and your company) care a lot about the value of you?
If increasing the value, and ROI of you sounds intriguing, follow us on Twitter and stay tuned in to Loggly over the coming days.
The Loggly and SolarWinds trademarks, service marks, and logos are the exclusive property of SolarWinds Worldwide, LLC or its affiliates. All other trademarks are the property of their respective owners.
Hoover J. Beaver